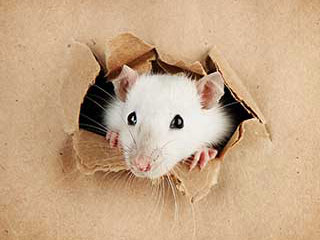 Not only can rodents cause a lot of harm to your household, their waste can carry disease that may affect your family as well! We can keep this from happening with our various expert services.
Are Rodents Hiding In The Attic?
Thankfully, it's not too hard to determine if they are. If you notice droppings on the floor, gnaw marks, a foul odor, or even head them running over head at night, chances are they're making themselves at home. The attic is an ideal spot for them thanks to being indoors out of the elements, and usually mostly untouched by humans. It gives them the security to start nesting, unfortunately using your insulation to do so and wasting energy because of it. However, we can assist you! We use traps rather than poison to both ensure the rats are removed completely from the home, as well as prevent toxins from entering it. It's the safer, easier way to take care of the issue! Afterward, we can offer cleaning and decontamination services to get your attic back to normal again.
Safe & Professional Rodent Removal
They may not simply be sequestered to the attic alone, but that's not a problem! Our professional team can still apply our method of ethically trapping and removing the rodents alive to avoid using pesticides that could also harm pets or your family in general. We'll ensure that all rodents are removed from every part of your home before you know it.
Commercial Rodent Removal Available
Should the problem instead lie with your business' building, we can assist you there as well! We use the finest equipment and years of experience to inspect the entire building and confirm that all rodents are trapped and removed. No need to worry about employees being around poisons, and it'll all be done with quicker than you'd think.
There's No Reason To Wait
Don't deal with unwanted visitors for any longer! Just contact Attic Cleaning Canoga Park today to get your rodent proofing services scheduled. You'll be glad that you did!